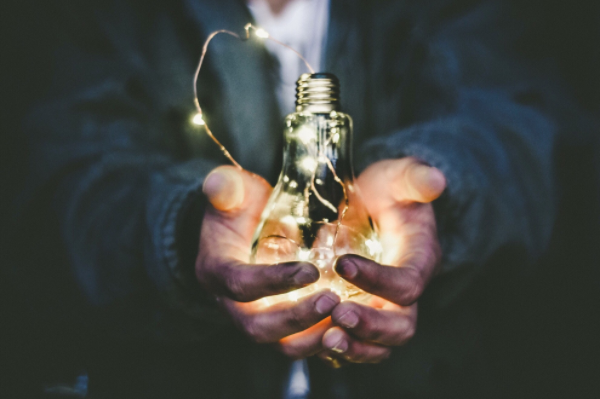 Many businesses today base their problem solving activities on analytics rather than including creative activities. Very often, problem solving happens in closed business environments where 'satisficing' takes place, meaning feeling the need to agree with the majority. In this case, logical models prevail over creativity and ingenuity by company leaders themselves.
Even though not intended, the side effect is that ideas that could benefit customers and generate long-term value often fall apart or are neglected.
Without an understanding of customer needs, most companies cease to be competitive in the marketplace.
Now that Design Thinking has matured and been used by many Fortune 500 companies with great results it becomes obvious: By meeting customer needs through creative problem solving, technological possibilities, and consumer-based strategies, it's possible for any company in any industry to excel.
The logic is the following:
Design Thinking is a Problem Solving Methodology:
Designers start from the bottom up to follow a mission or a goal, creating solutions based on constant learning and iteration.
To turn a design into a mature solution, designers, like artists, need time to build, test, evaluate solutions until they deliver their final results.
The results don't come from question to analysis to answer, rather through experimenting fast with various highly efficient concepts, looking at holistic solutions.
This framework does not focus on a narrow, immediate result, instead it contributes to organic growth across the organisation and industry.
Design Thinking results in Innovation:
In businesses, lack of change over time can either work or lead to less tolerance of risk.
However, businesses always need to differentiate from each other and to do that they need to operate on different principles. The purpose of Design Thinking is to create these unique, novel ideas on which organisations can operate. To create real value and competitive advantage, these ideas need to be highly effective through trying out possibilities, and continuing to refine execution until optimized.
Design Thinking is a Leadership Skill:
A leader usually needs to be creative in his thinking, absorb information fast and be persistent to new results especially after failure.
In this age, with the new product development mindset based on research, new tactics need to be applied rather than discipline and standardisation.
In this way, board decisions are based on market insights and data rather than posturing as design thinking deconstructs business problems and builds new, in depth, creative solutions.
Interdisciplinary Design Teams:
Design Thinking is not only for designers but for every specialist who wants to design solutions to their problems. An organisation can benefit more from teams thinking through the mindset of individuals from various backgrounds and disciplines that can be trained to contribute in a free flow thinking and judgment-less environment in order to produce creative problem solving scenarios.
Encourage Design Thinking mentality:
Design is a mindset. It requires focusing on the possibilities that are generated after discovering insights from people data. Infusing that problem solving approach into teams can shift the solutions towards creativity.
Organisations today strive for innovation, therefore a company culture that embraces design thinking can create more competitive products and services in today's fast moving business world.